With the use of a small mobile swiper tool that attaches to any mobile device, you can create an in-person donation terminal for all your fundraising events. With the help of GiveCentral, your donors can also pre-authorize their cards to make giving even quicker and easier when they attend your fundraising events.
What Sets GiveCentral Go Apart?
Hands-On Customer Assistance
We pride ourselves on our friendly and expert customer service. Our team is always here to help you.
Event Planning Support
GiveCentral Go is an ideal tool to use during your events. It makes accepting payments quick, easy, and functional.
In-Person Training
Our team offers friendly, in-person training on how to use the GiveCentral Go app and mobile card reader more efficiently.
Features & Benefits
Mobile Card Reader
GiveCentral provides you with a portable swiping device that easily attaches to your phone or other mobile device. Once set up, you have created your donation terminal!
Planning Ahead
Donors can pay for tickets to your specific event either ahead of time or in person.
Capture Information
New donor information is immediately stored in your GiveCentral database, making it easier to thank your donors for their contributions after your event and grow your community.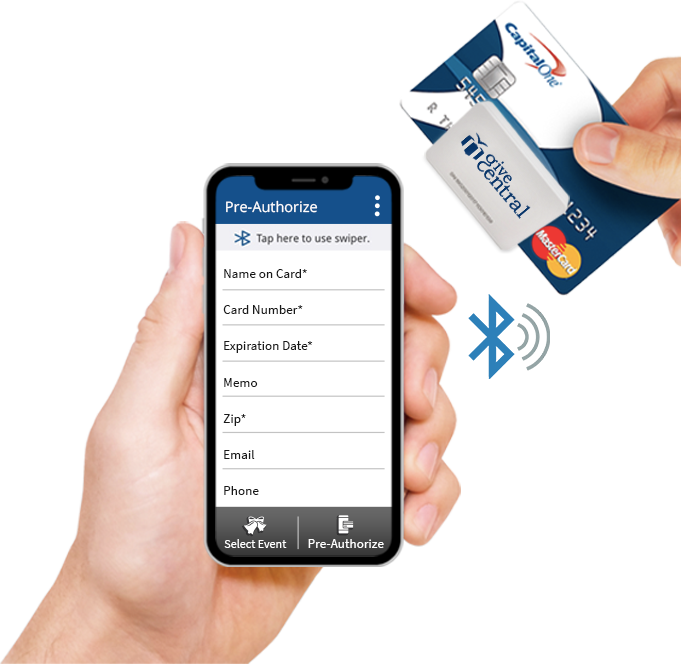 An Easy Way to Accept Payments on the Go
How does GiveCentral Go help you? Take a look at how GiveCentral's mobile card readers and app can make accepting donations and payments quick and seamless.
Contact Us
Office Location
PO Box 806158
Chicago, IL 60680
Phone Number
Tel: (833) 716 - 2612
Fax: (312) 893 - 2038